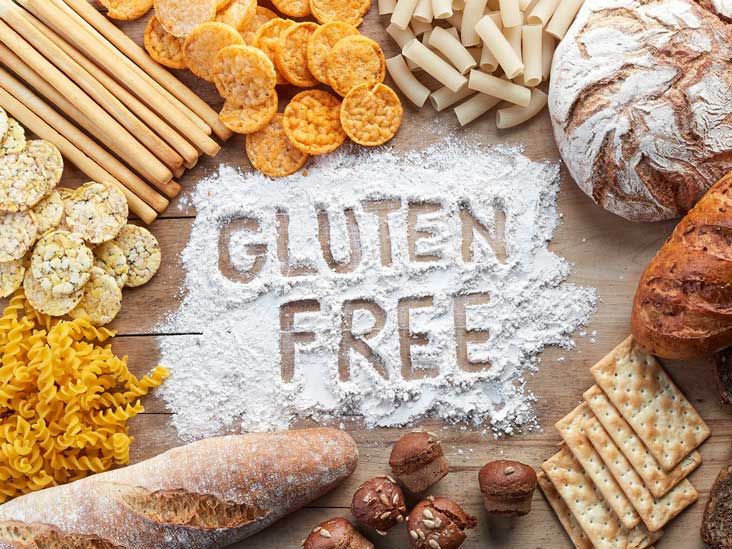 An increasing number of people choose a low-gluten diet, even though they are not allergic to the dietary substance. This trend has sparked public debate about whether or not low-gluten diets are recommendable for people without allergies. Now, researchers from University of Copenhagen among others have looked into just that. In an intervention study of healthy Danish adults, reported today in Nature Communications, an international team of scientists shows that a low-gluten but fibre-rich diet changes the community of gut bacteria and decreases gastrointestinal discomfort such as bloating and is linked to a modest weight loss. The changes in intestinal comfort and body weight relate to changes in gut bacteria composition and function. Moreover, we observed a modest weight loss, likely due to increased body combustion triggered by the altered gut bacterial functions," explains the leading principal investigator of the trial, Professor Oluf Pedersen, Novo Nordisk Foundation Center for Basic Metabolic Research at University of Copenhagen. The researchers undertook a randomised, controlled, cross-over trial involving 60 middle-aged healthy Danish adults with two eight week interventions comparing a low-gluten diet 2 g gluten per day and a high-gluten diet 18 g gluten per day, separated by a washout period of at least six weeks with habitual diet 12 g gluten per day. The two diets were balanced in number of calories and nutrients including the same amount of dietary fibres. However, the composition of fibres differed markedly between the two diets. Based on their observations of altered food fermentation patterns of the gut bacteria, the researchers conclude that the effects of low-gluten dieting in healthy people may not be primarily due to reduced intake of gluten itself but rather to a change in dietary fibre composition by reducing fibres from wheat and rye and replacing them with fibres from vegetables, brown rice, corn, oat and quinoa. A low-gluten diet has previously been proposed to diminish gastrointestinal symptoms in patients with inflammatory bowel diseases and irritable bowel syndrome, disorders which occur in up to 20 percent of the general Western population.
Cutting out gluten from your diet may seem like a difficult and limiting task. Fortunately, there are many healthy and delicious foods that are naturally gluten-free. The most cost-effective and healthy way to follow the gluten-free diet is to seek out these naturally gluten-free food groups, which include. Pure wheat grass and barley grass are gluten-free, but there is gluten in the seeds. There are many naturally gluten-free grains that you can enjoy in a variety of creative ways. Many of these grains can be found in your local grocery store, but some of the lesser-known grains may only be found in specialty or health food stores. It is not recommended to purchase grains from bulk bins because of the possibility for cross-contact with gluten. If you are concerned about the safety of a grain, purchase only versions that are tested for the presence of gluten and contain less than 20 ppm. Many items that usually contain gluten have gluten-free alternatives that are widely available in most grocery stores, and make living gluten-free much easier. Keep in mind, however, that minimally processed fresh foods are a crucial part of a healthy gluten-free diet. It is very important to base your diet around fruits, vegetables, meats, and other healthy food groups listed above. As a rule, traditional wheat products such as pastas, breads, crackers, and other baked goods are not gluten-free.
To follow a gluten-free diet, you must avoid wheat and some other grains while choosing substitutes that provide nutrients for a healthy diet. Gluten is a protein found in most grains. The gluten found in wheat, barley, rye and triticale a cross between wheat and rye can trigger serious health problems or other insensitivities. While other grains such as corn, rice and quinoa also contain gluten, they don't seem to cause the same problems as wheat, barley, rye and triticale. Because wheat, rye, barley and foods made from them are so common, removing them from your diet likely changes your overall intake of fiber, vitamins and other nutrients. Therefore, it's important to know how to choose your foods in order to meet your overall nutritional needs. Your doctor or a dietitian can help you make appropriate dietary choices to maintain a well-balanced diet. A gluten-free diet is essential for managing signs and symptoms of celiac disease and other medical conditions associated with gluten.
During Le Tour de France in , team Garmin-Slipstream limited inflammatory foods in their diet to promote optimal recovery from grueling climbs and muscle-burning time trials. Included on the list of inflammatory foods were items containing gluten, a protein in wheat, barley and rye. Gluten is most commonly found in breads, pastas and crackers but it also creeps into foods like soy sauce and chicken broth.